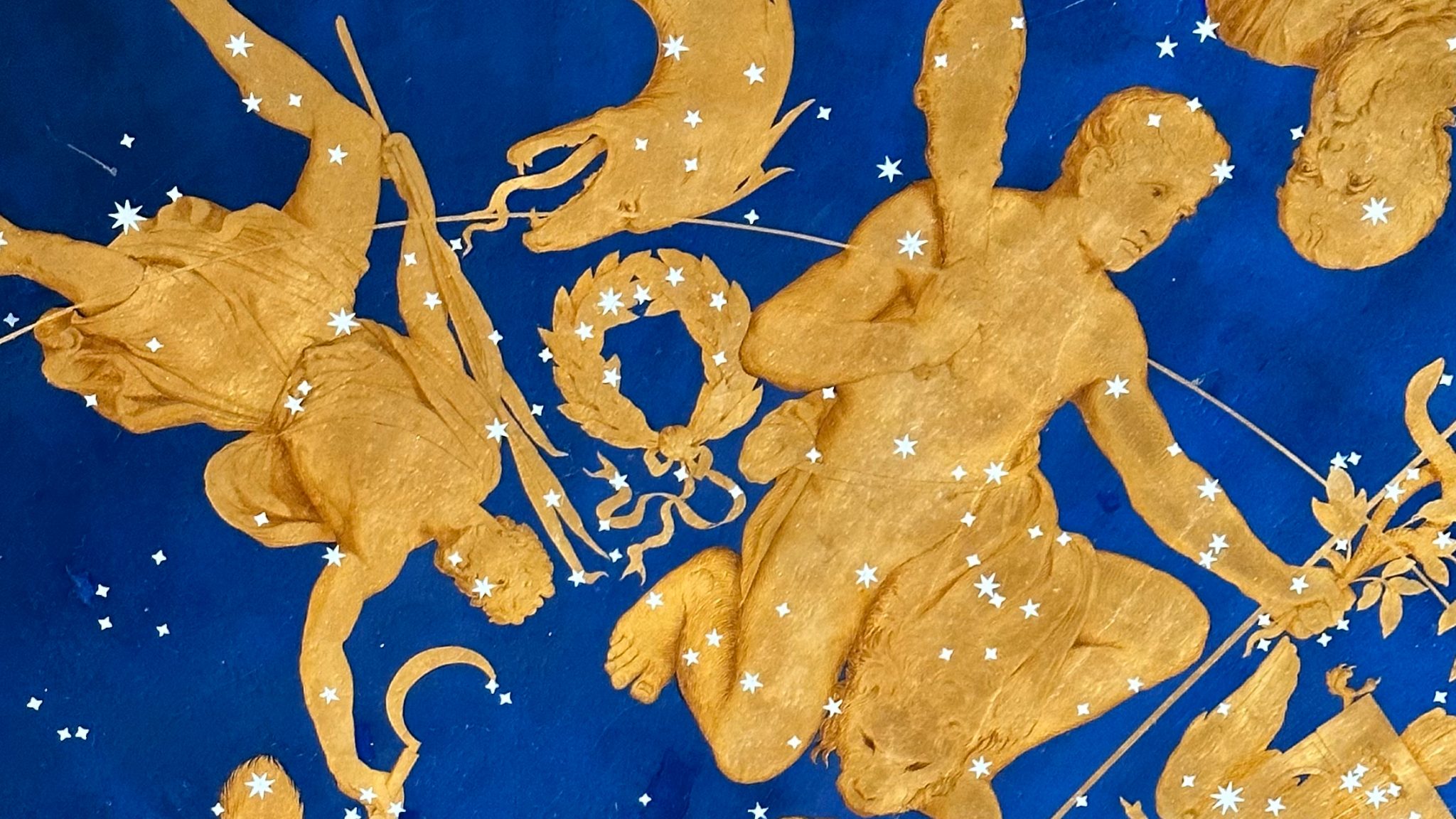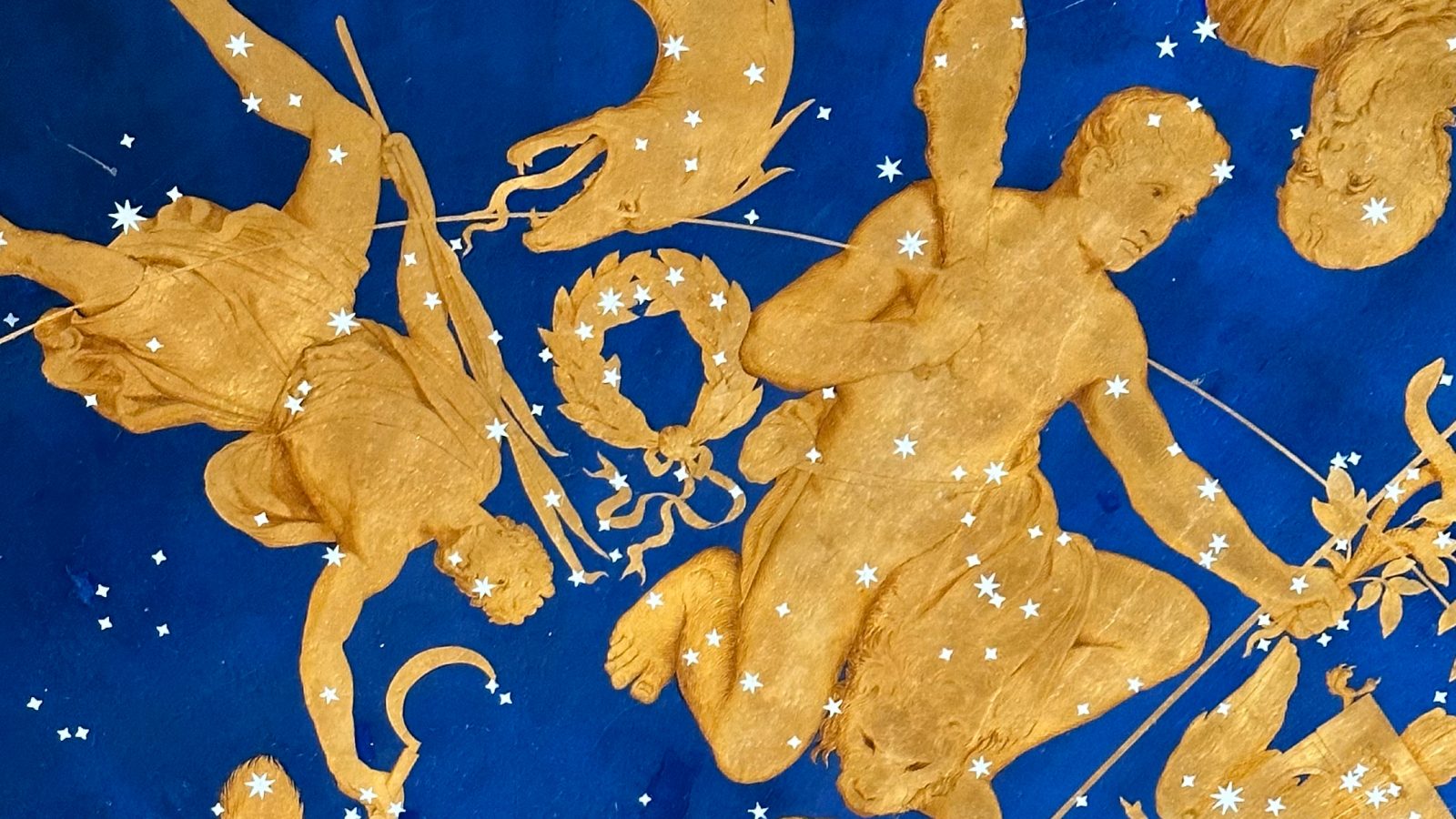 Magical ceilings
22/09 2023 - 14/01 2024
Spectacular staging of iconic ceilings at Frederiksborg Castle.
National myths, Greek gods and a dizzying starry sky: in the autumn of 2023, six of
Frederiksborg Castle's iconic ceilings will be staged in entirely new ways as the Danish Museum of National History at Frederiksborg Castle brings in Danish studio Dark Matters to create a series of spectacular, artistic light installations on the remarkable Renaissance-style ceilings.
Running from 15 Septemember 2023 to 14 January, Magical Ceilings – Frederiksborg x Dark Matters creates an alternative universe where visitors can experience the six selected ceiling at Frederiksborg in an entirely new, extraordinary way. The narratives presented in the exhibition are played on the visitors' own smartphones via the Smartify app.
More about the exhibition
Hovering high above the many stories about Denmark told at the museum, the ceilings of Frederiksborg Castle form an entire world of symbols where gods, kings, peasants and animals reflect past worldviews, mythologies and National Romantic sensibilities. In the experimental audio-visual installation Magical Ceilings – Frederiksborg x Dark Matters, six of the most iconic ceilings of Frederiksborg are illuminated and staged to accentuate the history, beauty and distinctive qualities of each ceiling through insightful interpretations and the spectacular projections and lighting created by Dark Matters.
For example, you will find Tycho Brahe's celestial dome spring to life. Marvel at how the light makes bodies and animals move seductively to magical effect, and let a mirror propped on the floor take you straight into the myth of Gefion creating Zealand by ploughing land out of Sweden. In the Sea Room, metallic light accentuates narratives about the sea, and on the Fairy Tale Ceiling a host of satyrs, angels and lions are awakened into vivid life by playful lights and music. A number of prominent Danish art historians, comedians, writers and composers guide the visitors as they turn their gaze upwards, offering their interpretations of the ceilings: art historian Bente Scavenius;
astrophysicist and author Tina Ibsen; singer, songwriter and producer Lydmor; literature professor and author Søren Frank and actor and screenwriter Anna Neye all contribute to the staging, their voices and stories woven into soundscapes specific to each room.
The ceilings at Frederiksborg offer unique subjects of study within the fields of art history, architecture and science alike. Nothing was left to chance in their creation. After the great fire at Frederiksborg Castle in 1859, the ceilings had to be recreated, and artists and architects came up with their own spins on architecture and imagery based on the pervasive ideals of the nineteenth century. They drew inspiration from the castle's original Renaissance ceilings as well as from other ceilings in Europe – and several of
the results are infused by the imagery of the National Romantic style prevalent in Denmark in the mid-nineteenth century.

About Dark Matters
Dark Matters is a visual studio working with spatial experience design and aesthetics. Taking a very distinct, personal starting point in their visual communication, they always aim to surprise viewers with their installations. Emotional connections and sensations are seen as key to firmly planting an experience in the recipient's memory, making a lasting impression that those present will take with them. Working with exhibitions, concerts and art installations, Dark Matters always leave a personal imprint that is seen and felt by visitors.
We suggest you bring headphones to this exhibition.