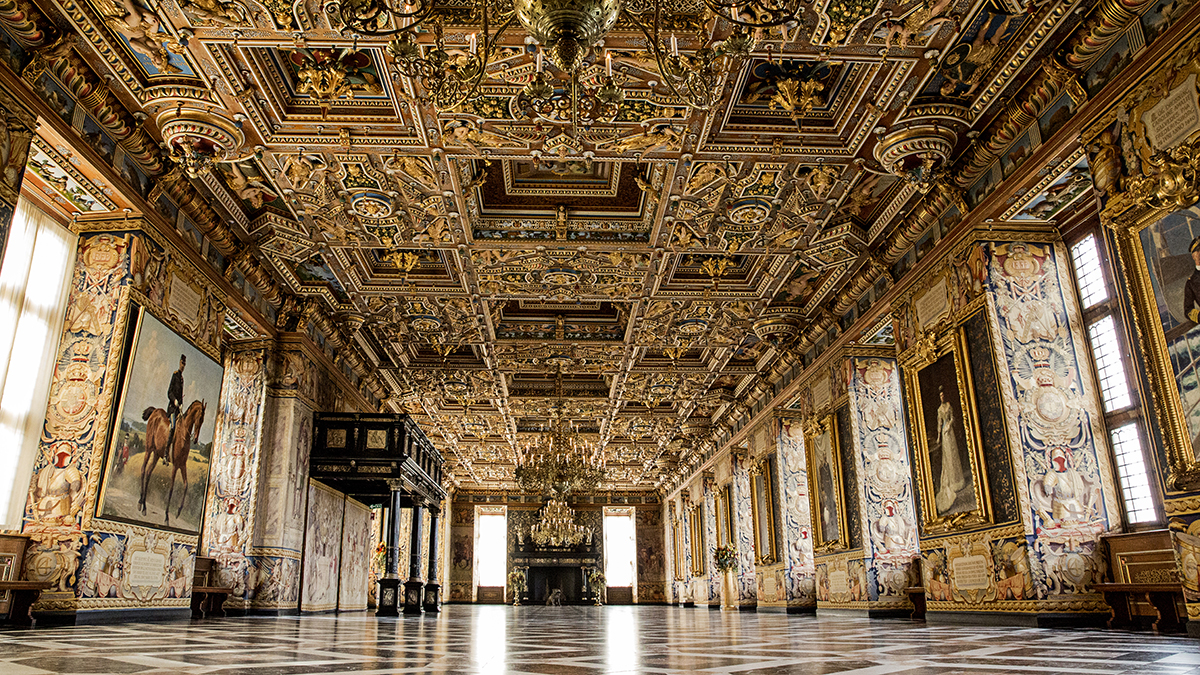 Welcome at Frederiksborg!
The museum reopens on Saturday, January 22nd
Due to the Covid-19 situation, the museum will be closed from Sunday 19 December to Friday 21 January both days included. Tickets purchaced for the specific period of time can be used on any date during 2022. For refunding of tickets, please forward the ticket confirmation to dnm@dnm.dk including the statement 'Refunding required'.
Corona passport

From Saturday 22 January, digital or printed corona passport is required when visiting the museum. Corona passport is required from the age of 15.
The Danish authorities provide a thorough guide including instructions for visitors travelling without the Danish and European corona passport app. Click here to get to the guide. Scroll for FAQ.
Mask
From Saturday 22 January, mask is required at the museum.
Riddersalen
Riddersalen is closed to guests until Friday 4 February.
Lots of room and hand sanitiser
Frederiksborg's rooms and magnificently ornamented halls make up several thousand square metres of museum. There is plenty of room to keep your distance, and the chronological structure of the museum's collection creates a natural flow throughout your visit, with space for immersion and exploration of different periods and details along the way. Traffic in the museum, including stairwells, is one-way. Visitors are asked to comply with the one-way restrictions, which follow the history of Denmark and include visits to, among other places, the Castle Church and the Audience Hall. There is direct access to special exhibitions and, of course, access to hand sanitiser at the museum.
Assembly ban and spacing restrictions are no longer applicable. This means that we are running guided tours and welcoming larger groups.
Your ticket to the museum is valid all day, and it is possible to leave the exhibitions during the visit in order to see e.g. The Baroque Garden and the museum restaurant. The restaurant offers both indoor and outdoor dining.
The Children's History of Denmark exhibition in the cellars of Frederiksborg, which is normally open on public holidays and during the summer period, is not open. Instead, we recommend the museum's tracking games for families with children, and the SMARTIFY app, which tells the story of Frederiksborg at children's level as you move around the castle.
Opening hours
Frederiksborg is open every day throughout the year:
November – March: 11.00-15.00
April – October: 10.00-17.00
Admission prices
Adults: 90 DKK
Children (0-5 years): 0 DKK
Children (6-15 years): 25 DKK
Students: 70 DKK
Senior citizens (65+): 80 DKK
Family ticket: (2 adults + 3 children): 180 DKK
Groups, min. 10 persons (pr. person): 70 DKK
Annual pass: 350 DKK
The ticket is valid for the whole day