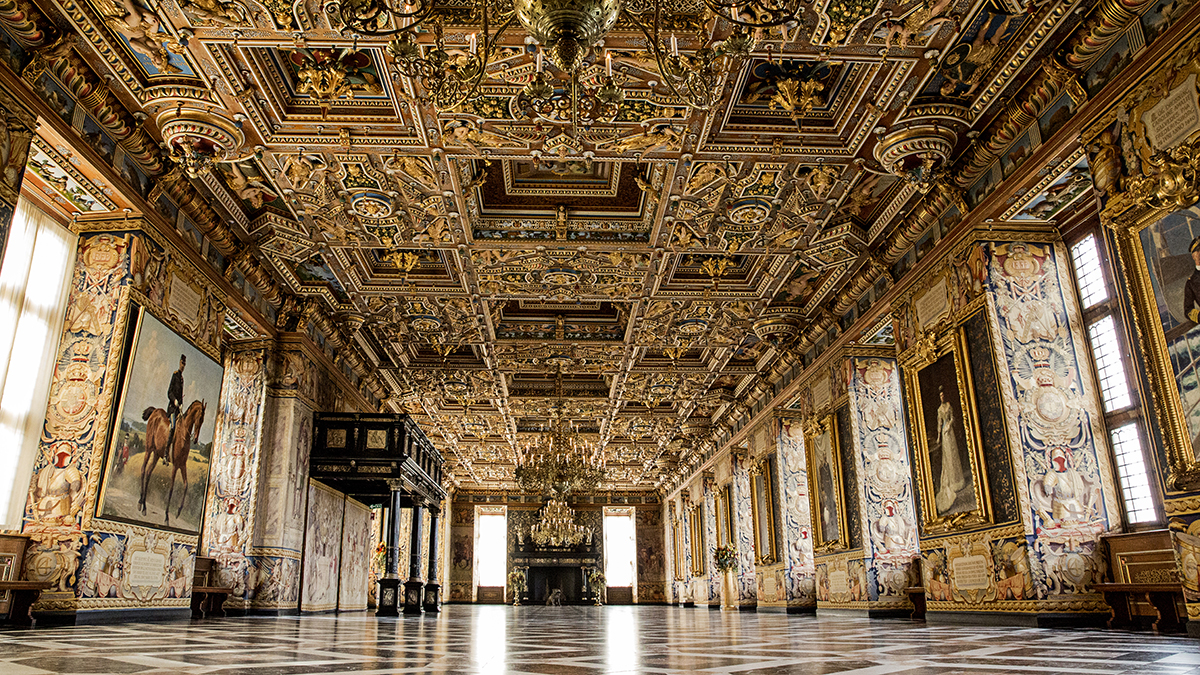 Welcome to Frederiksborg!
At Frederiksborg, we of course comply with the health authorities' requirements for limiting Covid-19 infection. This means that there are some requirements that the museum and visitors must meet, in order to provide and gain access to The Museum of National History's collections and special exhibitions.
Frederiksborg's rooms and magnificently ornamented halls make up several thousand square metres of museum. There is plenty of room, which allows you to easily maintain social distancing, and the chronological structure of the museum's exhibition creates a natural flow to the visit with room for immersion and exploration of different periods and details along the way.  Traffic in the museum, including stairwells, is one-way. Visitors are asked to comply with the one-way restrictions, which follow the history of Denmark and include visits to, among other places, the Castle Church and the Audience Hall. There is direct access to special exhibitions. In smaller rooms, as well as in the arrival area, there is room for a limited number of visitors at a time.
The ticket to the museum is valid all day, and during the visit it is possible to leave the exhibitions to visit, for example, the Baroque Garden and the museum's restaurant, which also opens on Saturday 24 April. The restaurant offers both indoor and outdoor dining.
The following rules apply for visitors to the museum:
Visitors aged 12 and older must wear a face mask or face shield
Visitors aged 15 and older must present ID and a digital or physical 'corona pass' – i.e. documentation of corona vaccination, a negative coronavirus test which is max. 72 hours old, or a positive coronavirus test which is at least 14 days and max. 180 days old. Read more about the 'corona pass' here (in Danish): https://coronasmitte.dk/raad-og-regler/coronapas
Visitors can move around in groups based on current assembly guidelines.
Hand sanitisers are available at the museum.
The Children's History of Denmark exhibition in the cellars of Frederiksborg, which is normally open on public holidays and during the summer period, is not open. Instead, we recommend the museum's tracking games for families with children, and the SMARTIFY app, which tells the story of Frederiksborg at children's level as you move around the castle.
Opening hours
Frederiksborg is open every day throughout the year:
November – March: 11.00-15.00
April – October: 10.00-17.00
Admission prices
Adults: DKK 75
Children (0-5 years): Free
Children (6-15 years): DKK 20
Students: DKK 60
Seniors (65+): DKK 60
Family ticket (2 adults + 3 children): DKK 150
Group ticket (min. 10 people): DKK 60 per person
Year pass: DKK 300
The ticket is valid for the whole day